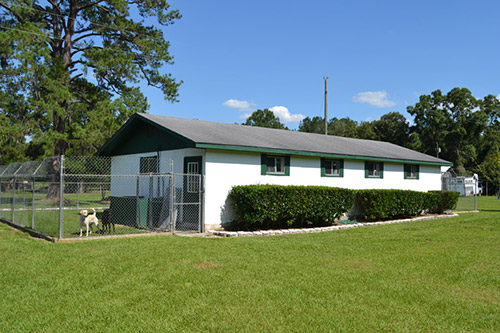 Is your dog stressed out from being left alone at home all day? Bored enough to chew up your favorite shoes? Robinhood Kennels and Cattery's pet sitting in Tallahassee, FL will make your bad dog blues go away! Our cat and doggy daycare is an excellent way to ensure boredom never strikes your pet while you're away.
Our animal sitting team has been in the business for 40 years and are trained to ensure your pet remains safe throughout their stay. We monitor our facilities 24 hours a day and require that all visitors (four and two legged) are up-to-date on shots and vaccines.
Because no two dogs are the same, we have a variety of facilities for small and large breeds. Our facilities are designed to provide maximum comfort so their stay can be a happy and healthy one:
Small and medium dog facilities: Our small dog kennels feature 20 spacious 4 feet by 6 feet runs, as well as heat and air conditioning, and a fenced outdoor space. Medium-sized dogs can feel comfortable in our middle kennel designed with twenty 4 feet by 14 feet runs.
Large dog facilities: Our large dog kennels hold 12 4 feet by 20 feet runs and a large, fenced-in outdoor space. Our deluxe dog building features 20 4 feet by 14 feet runs as well as heating and air conditioning.
Cat facilities: Of course, we love our feline friends as well! Our recently updated cat kennels hold 24 2 feet by 3 feet cages in a climate controlled building. Our cat kennels also feature an enclosed outdoor space so our guests can enjoy the Florida sunshine.
Our pet sitting team is trained to administer medicine and shots per your request, and while we don't offer grooming services, we're happy to bathe your pet if requested.
If you need personal and professional animal sitting in Tallahassee, Leon County, Ochlockonee, Perkins, or Woodville, FL, contact us today at 8050-562-4503 and schedule a visit to our cat and doggy daycare!
---
History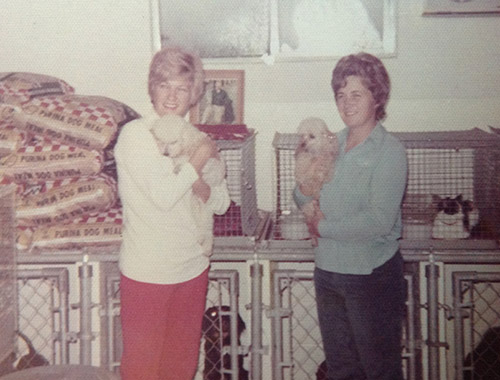 In 1970 two women broke ground and started the original building of Robinhood Kennels and Cattery. Lyn Griffin who later became Lyn Grant and Barbara Forehand who later became Barbara Genthner met as neighbors while living on Robinhood Road in the 1960's. They began training Labrador Retrievers and participating in retriever field trials together. They named their personal dogs after the street upon which they lived hence the Robinhood name was born. Soon others began soliciting their training expertise so they decided to sell their homes and search for property on which to start a dog training business. They found an ideal fifty-acre parcel off Old Bainbridge Road and soon moved out with five young boys and one husband in tow. They quickly erected the first kennel building which contained sixteen half-covered outside dog kennels and runs with a small office and feeding station. The women operated on a shoestring budget at first reinvesting all their earnings into the business. They soon added attached wings to the original building bringing the total number of runs to thirty-six. Expansion was necessary to keep up with the demand for training dogs and to accommodate a growing number of boarding requests.
A few years and two new marriages later Lyn and Barbara decided to split the business and the property with Barbara taking the training side of the business and Lyn taking the boarding side. Eventually, Lyn bought out Barbara's share and became sole owner of Robinhood Kennels and Cattery. She soon designed a new type of building with completely enclosed heated/air-conditioned runs and guillotine doors leading to large outside exercise yards intended solely for small dogs. It was such a success that clients with large dogs were pleading for similar boarding facilities for their pets. So Lyn drew up and commissioned her first indoor heated-a/c runs for large dogs. She also decided to erect a small separate building just for cats with their own completely fenced-in exercise area.
Over the next twenty years all of the original buildings were either torn down or modified to house-enclosed climate-controlled runs. Only one outdoor covered wing remains and it has been improved as well. After more than thirty years of being the driving force behind Robinhood Kennels and Cattery, Lyn turned much of the running of the business over to her son Jay. She went on to pursue her other loves of horseback riding and traveling. Jay who has worked in every facet of the dog and cat kennels since he was fourteen now is in charge of most of the daily operations. This small business has thrived for over four and a half decades by following the simple guidelines established by its original owner/founder. At Robinhood Kennels and Cattery, we strive to offer our pet guests a pleasant boarding experience in a clean, healthy environment at a reasonable price. Call our cat and doggy daycare today!
---
Prices
Small Dogs (0 – 25 lbs)
$15 per day (climate controlled runs only)
Large Dogs (26 – 99 lbs)
$15 per day (outdoor covered runs 30 lbs and above only)
$18 per day (climate controlled runs)
Extra Large Dogs (100+ lbs)
$20 per day
Cats
$10 per day
Multiple Dog Rates
2 Small Dogs
$24 per day1 Small and 1 Large Dog
$27 per day
2 large dogs
$30 per day1 Large and 1 Extra Large Dog
$32 per day2 Extra Large Dogs
$34 per day
3 Small Dogs or 2 Small Dogs and 1 Large Dogs
$32 per day2 Large Dogs and 1 Small Dog
$35 per day3 Large Dogs
$38 per day
</div
View important dates and hours.
---
Shots & Medicine
Robinhood Kennels and Cattery strives to offer the best of care for your pets!
We are more than willing to administer medications, including injections, as provided by owner!
All dogs of adult age (over 1 year) must have current D.H.L.P.P. and Rabies shots.
Dogs under 6 months should have 1 to 3 D.H.P.P. shots depending on age of pup.
We strongly suggest that dogs receive Bordatella Canine Cough preventative before boarding!
Cats must have F.V.R.C.P.P. and Rabies shots.
We strongly suggest that cats be tested for feline leukemia and the series of shots started.
---
Policies
Please observe the 10 mph speed limit on kennel property.
Please do not enter kennel property during off-hours.
All dogs should be kept on a leash on kennel grounds.
Cats should be kept in cat carriers or on a leash.
First-time customers are required to pay one half of the boarding bill in advance.
Payment must be made in full when the animal is picked up. Robinhood Kennels and Cattery does not bill.
We accept cash, local checks, debit cards and most major credit cards.
*Note: There is a surcharge for using a major credit card.
There is a $30.00 service charge on returned checks.
Please feel free to bring a blanket, pet bed, toys and snacks for your pet!
For special holiday information – please see Holidays Page.
For shot requirements please see Shots and Medicine.
Robinhood Kennels and Cattery is open for inspection during business hours – Please come out and take a look.